Well, been meaning to ask this question for sometime ......
does anybody know what happend to XOXO 1utama branch??? It used to be somewhere at the new wing....but they closed and.....I have no idea where else I can find xoxo?!
I really love xoxo handbags because they offer designer look handbags at really affordable prices! Much better than Guess. Which is, i dont know why so popular amongst malaysian.... i think Guess handbags are wayyyyyyy overpriced.
Im looking for a new bag. And.......with Christmas coming, i'm having a strongggggggg "hearty" feel to get something with lots of "hearts". And i remember coveting at some really pretty looking handbags with heart monogram . Something like these: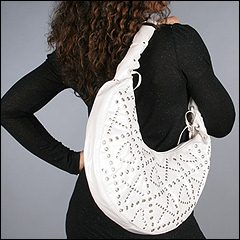 hehe......i know this is not the first time i plug
XOX
O!! I just love them and I want to buy their handbag........but they disappeared from 1Utama! and im not sure if they have any other branches in Malaysia?! hehe...sorryla 1utama is my second home......i hardly go elsewhere to shop.
So ladies....do u know where i can find xoxo in Malaysia?